I try to give websites the benefit of the doubt — really, I do.
Recently, though, there was a site that left a really bad taste in my mouth.
First, a little background…
In early-to-mid April, I got into the "pen-pal" scene. Like my interest in ham radio, beekeeping, or geocaching, it's just something to do in my free time.
Neither having stamps, envelopes, nor a printer — and being a bit impulsive — I started looking for online services that would let me compose letters online and they could handle the printing and mailing of it.
That's where I found 1HRMail.com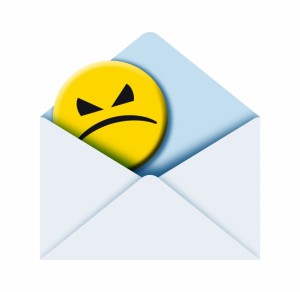 At first, it seemed decent. You create an account, buy postage, and send letters. Pretty simple stuff.
After creating my account and buying postage, however, I found what I thought was a bug in the website. After I logging in, I could see my postage balance, could create contacts, etc. As soon as I tried to send a letter, though, I was told I needed to login. I tried repeatedly to get this to work on multiple computers from Internet Explorer, Chrome, and Firefox. Same behavior each time.
I contacted the website through their Customer Service form to let them know of the issue. I also told them that if the site wasn't usable, I would like my $10 postage credited back, since the way the site was working didn't let me send out any messages. No response.
I kept digging, though… I found their Facebook page, their Twitter account, etc., but it was all just self-promotion and marketing attempts. There was no way to interact with them other than the contact page on their site. I did find a few posts on the Facebook page about the site not working, not being able to use the service, etc., but these posts were quickly deleted. …uh-oh.
I went back and starting reading more details on the site. Apparently, they start you out on a 14-day trial and if you don't cancel within that time, you start getting billed at $15.99 per month.
Since only a few days had passed since I signed up, I assumed I'd be fine. Boy, was I wrong. After logging in, I was greeted with a message that said the site was undergoing temporary maintenance and to try back soon. That message remained for two weeks — coincidentally, just long enough for me to not be able to cancel my trial.
During this time, I tried to get someone to cancel my account via the Contact Us page.
I didn't seem to be getting any monthly charges from the site, so I assumed it had been taken care of. On May 28, though, I received a $15.99 charge from them. I immediately notified my bank and let them know I wanted to dispute the charge. As of today, the charge has been disputed. Now, a second charge has been made (currently in "Pending" status) that I'll also be disputing if/when that clears.
I logged into the site today, just to make sure I didn't overlook any options to cancel my subscription.
This was what I saw when I logged in:
My only options are "Help" and "Sign Out". While the page mentioned I can cancel my membership, there aren't actually any options for that on the site.
I will be working with my bank on this issue, obviously, but I'll also bring plenty of attention to their site — and not in a good way.
They aren't registered with the Better Business Bureau (naturally), but I went ahead and added them to the database and filed a complaint.
In the meantime, I guess my only option is to report the card usage as fraudulent and get a new card.
It's one thing to have a crappy website, but it's another to be a flat-out scam…
If you need to fill out a complaint against them, here is some business information to get you started…
Though the domain's Whois information is hidden, it looks to be a California-based operation.
I stumbled upon a couple guys who seem to have some connection to the business, but lacking any contact information for the site, it's tough to tell who's an employee and who is just a marketing-shill.
Like I said…. I like having hobbies for my free time. At least until the charges stop (and are credited back), I'm going to have fun doing some campaigning of my own ;) Though it probably won't help me get my money back, maybe it'll at least help others from getting scammed.
UPDATE:
06/02/11 @ 11:30am: I received an email from help@1hrmail.com in response to my "Contact Us" request. I was told they would close my account and refund any fees charged including any postage remaining in the account. While this doesn't necessarily make me feel all warm-and-fuzzy about the site, I do think it goes a long way towards changing my opinion of them.
06/08/11 @ 04:05pm: Another response from the same email address: "We're sorry, it seems like there's a glitch in our billing system. We'll manually cancel your account, refund those charges and make sure you're not charged again. We apologize for the inconvenience."
Currently: Still no credits, except for what has been disputed with MasterCard.